You can visit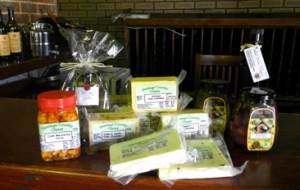 the vineyard 7 days a week for free cheese, olives and wine tastings and sales.Visitors are welcome to our property to taste our wines at the cellar door and enjoy the atmosphere and aromas of our winery. We also have a selection of cheeses & olives, a perfect companion to wine tasting.
With a variety of whites, reds, rosé and fortified wines, there's a wine for every palate and occasion.
A selection of cheeses & olives are available to purchase from our cellar door
Kalamatta & Sicilian Marinated Olives
Mediterranean Fetta
Garlic & Chive Fetta
Chilli Marinated Fetta
Mediterranean Cheddar
Pepper Cheddar
Smoked Cheddar
Port Cheddar
Chilli & Garlic Cheddar
Vintage Cheddar
Red Wine Vinegar
Liquered Grapes in Port – currently out of stock
Twin Hill Winery Wine Glasses
Oak barrels – 4.5L & 9L available (filled with Tawny)
Liqueur Sherry - $40
65th Anniversary Liqueur Sherry. Only available to purchase from the cellar door.